Typical Applications
E-Commerce Packing Stations are the basic packing station for smaller packing operations. The ergonomic size of the bench is ideal for the typical worker. The adjustable legs and components allow all materials and supplies to be positioned within easy reach.
The upper shelf can hold up to six different size cartons up to 30-inches by 30-inches flat size. The closed document shelf allows all small supplies to be stored off the table to increase working space. Both components extend over the top 9-inches leaving a comfortable 24-inch reach for all supplies.
Additional modules can be added to the packing stations for increased storage of materials, supplies and equipment.
General Specifications
Above and Below Packing Stations components can be added or deleted as required.
Packing Stations are adjustable in height from 29-inches to 36-inches
All Packing Stations components are adjustable to accommodate the worker
All sheet metal components 14-16 gauge steel.
Packing Stations support up to 1800 lbs.
Packing Stations have rounded edges with inlaid t-molded vinyl edges for protection
All Packing Stations are provided with the highest quality tops.
Various Table Tops Available

Laminated, vinyl edged
ESD
Laminated, self edged
Shop top
Butcher block
Metal
Roller bearing
---
System Components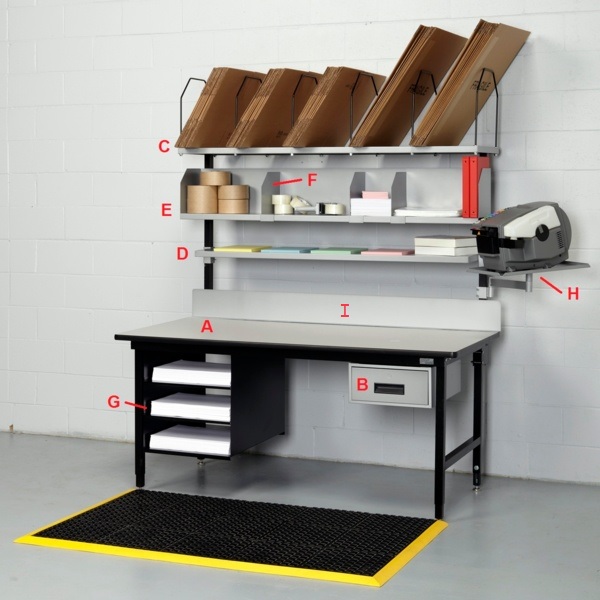 D-9001 Packaging Workstation 68 x 33 x 29-36"H
D-9010N Metal 1-Drawer Unit
D-9031 Cartoning Rack with T-Uprights & 6 dividers
D-9031CC-5917 Center Mount Shelf
D-9032 Document Shelf
D-9033 Document Shelf Divider
D-9056-2424-3 Three Tier Tissue Tray
D-9091 Tape Machine Tray
D-9023B 68" Backsplash Only

"The personal service was exceptional! The products are exactly what I need and meet my expectations of quality."
Troy Walters
Lafayette Instrument Company