Our Environmentally Sensitive Manufacturing Process
Our goal is to have zero emissions from our facility and to be 100% off the grid within 10 years. We have succeeded in completing what we call "low hanging fruit" projects that are not too costly but have huge environmental benefits. We have outlined these projects in our The Greening of Calstone catalogue for your review.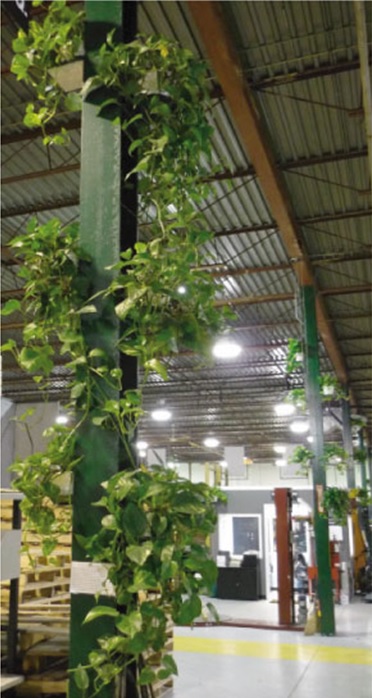 Skylights installed throughout the manufacturing facility reduce our energy requirements. The natural day light has been associated with improved mood, enhanced morale, lower fatigue, and reduced eyestrain.

We have replaced all of our lighting with energy efficient bulbs (MaxLite Bulbs), a compact fluorescent lighting system that consumes less energy to power each light bulb with a guaranteed energy savings of over 50%.

Our manufacturing facility harvests 100% of our roof rainwater into a series of ponds that water an oasis of indigenous plants. In another area a 2000 gallon water tank collects rainwater and waters our garden.

The cardboard we use for packing arrives with a minimum of 85% recycled materials. We also reuse all packaging that is returned for future shipments and recycle any cardboard that can't be reused.

All wooden skids used to ship products to customers are 100% recycled.

Our Shipping and Receiving doors have windows to let natural light in. Above each door is an Air Barrier, an environmentally friendly system that uses our own recycled air to keep hot air out in the summer and cold air out in the winter. These barriers curb our energy costs.

Our production uses the most up to date technology. Our paint booth is the latest technology in powder coating, as it is more environmentally friendly than standard wet spray paint.