Dehnco Strategies for Re-Opening: COVID-19 BARRIERS
As businesses across the country prepare to re-open their doors, employers are faced with challenges about how to maintain the safety and well-being of their workers and customers. Over the last few months, we've been working around the clock to perfect the design and manufacturing of our physical coronavirus barriers — based on CDC and WHO guidelines — to protect retail, office, and warehouse workers. Re-opening requires that we all work together, share resources, and closely monitor the health and wellbeing of not only our employees but also of our work environments to ensure we're diligently and proactively reducing the risk for COVID-19 spread.
Finding the perfect solution for your space takes time and a multi-faceted effort. We're living through an unprecedented moment where there's no copy-paste solution that works for all businesses. Over the last few months, we've been able to find solutions that work for various businesses across disparate industries — from gyms to warehouses to casinos — all with different obstacles. By taking the time to identify challenges and opportunities, you can greatly improve the safety of your workplace and the health of your employees.
As a public resource, we've compiled a list of useful barrier materials and lessons learned to help you and your business re-open safely and successfully.
Building the Physical Barrier
In addition to spacing out employees, physical barriers can help greatly decrease COVID-19 exposure and spread in your facilities. Through trial and error, availability of supplies, and weeks of careful research, we've been able to identify physical barrier solutions that are cost-effective as well as easy to source, use, and disinfect. Every business, floorplan design, and budget is different, so we've highlighted some key characteristics and pros and cons of commonly used barrier materials.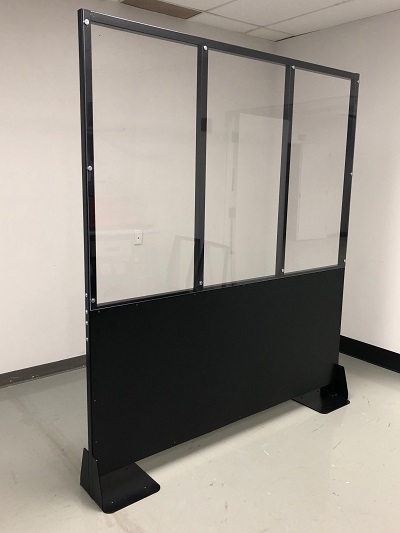 Plexiglass —All of our original designs and blueprints called for Plexiglass (Acrylic). Plexiglass is thick, durable, and transparent - all the qualities of the ideal physical distancing barrier. And because it's such an ideal piece of equipment, it's been nearly impossible to source due to increased global demand. If you're able to source Plexiglass, bear in mind that it cannot support its own weight and will need an additional support structure to keep it in place.

PETG — Similar to Plexiglass, but heavier, more expensive, and more resistant to impact. Can also be difficult to source.

Clear Vinyl — Clear vinyl is a great resource for building interpersonal barriers. When pulled taut, it's easy to clean, and clear vinyl is relatively easy to source.

Twin-Wall Polycarbonate — In absence of acrylic, polycarbonate is a great solution. Polycarbonate sheets have 250 times the impact strength of glass, and 30 times the impact of acrylic. We've been recommending businesses use twin-wall polycarbonate, as it's strong, sustainable, easy to disinfect, and a lighter weight material.

Wood and other porous materials —We do not recommend the use of wood or other natural, porous materials in creating a COVID-19 protective barrier. All materials used should be waterproof and easy to disinfect to avoid spread.
Temperature Testing Modules
Screening employees and educating them on the symptoms of COVID-19 have been essential in containing the virus in the workplace. One common screening requirement is a temperature check. We've created a modular unit designed as a safe space to take employees' temperature that can be built to accommodate single or dual testing.
We recommend using Plexiglass, PETG, or Twin-wall Polycarbonate, as these materials are easy to sanitize between uses, and the physical barrier serves to minimize contact between testers and employees.
Having a Plan
These are unprecedented and uncertain times — we're drawing the road map as we go. We all have to do our part to stay up-to-date and educated on the latest safety measures in order to protect ourselves and others. Make a plan for your business and draw up employee guidelines and procedures. Health is communal — especially when your workers and customers are in close quarters. There's no one-size-fits-all solution when it comes to reducing COVID-19 exposure, but we can all do our part to help minimize the risk and the spread.