The past few weeks have been unlike any that the world has ever experienced. The entire global supply chain has been disrupted, and we take very seriously our role in supporting the critical infrastructure and people on the front lines, the ones supporting our health, our economy, and our collective wellbeing at this time.
At Dehnco, we're remaining open in order to support the pharmaceutical, logistics, distribution, and e-commerce industries that require our help. We're working around the clock to make sure essential services, products, and health supplies make it out the door and into the right hands as safely and as quickly as possible.
We have taken a number of safety measures to support our staff and our clients at this time, and, internally, we've developed several new pieces of critical equipment to better support warehouse personnel at this time.
We are providing the designs and details of our new Temperature Testing Module, Sanitation Cart, and our Free-Standing Workstation Barriers as a free resource on our website, as we strongly believe many businesses could benefit from similar implements. We all have to do our part to keep each other safe.
Temperature Testing Modules
We've created a modular unit designed as a safe space to take employees' temperature before they enter the workplace, minimizing risk for COVID-19 spread. The testing modules can be built to accommodate single or dual testing. Designed from Plexiglass, the material is easy to sanitize between uses, and the Plexiglass barrier minimizes contact between testers and employees.
At this time, we're selling the Testing Module in two iterations. Plexiglass and PETG are difficult to locally source at this time - so we're providing the option to purchase this module as a full unit, pending Plexiglass availability, or you can purchase just the frame at this time.
Single Test Unit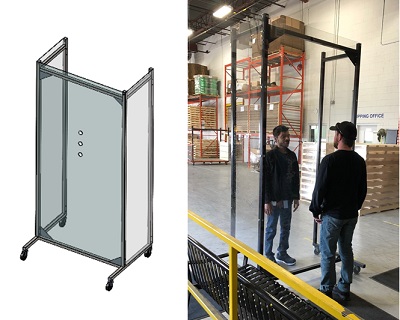 Dual Test Unit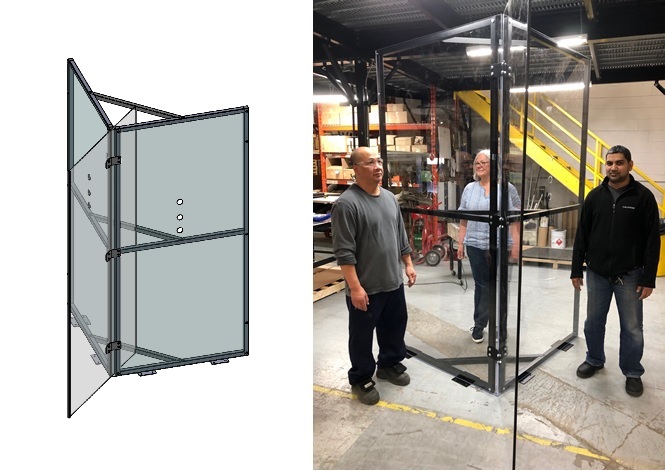 Portable Sanitation Station
Designed for convenient use, we've created a portable hand sanitization cart. The moveable cart has a holder for hand sanitizer pumps or wipes and comes equipped with two roll holders for paper towels. The cart moves easily with swivel casters.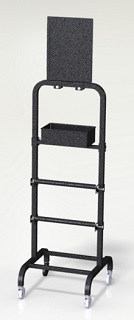 Free Standing Workstation Barrier
We've also created a modular workstation barrier to protect employees as they're working in shared spaces. This free-standing frame provides support for a standard 4' x 8' sheet of Plexiglass or similar material - shielding employees from unnecessary contact. While using this piece of equipment, we still recommend that workers position themselves to have their backs facing one another.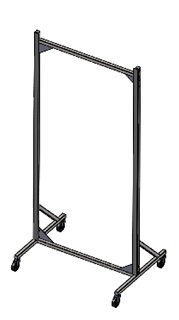 We are operating on an over-abundance of caution to make our employees' health and wellbeing our top-priority. We're following CDC updates, and will be adjusting our production processes accordingly.
If you need assistance, our phone lines are still operating, and our team will be available to take your questions and help support your production needs at this time. Hoping you and your loved ones stay safe and well.