At Dehnco, we pride ourselves on over 40 years of helping clients "Work Better." And we recognize we owe much of our success to our dealer partners. Our network of over 100 Dehnco equipment dealers helps us provide warehouse and workstation solutions to businesses big and small. Through close collaboration, shared product expertise, and combined consumer insights, we're able to service a much larger customer-base more effectively.
We approach our dealer relationships with the same "Work Better" philosophy that drives the rest of our operations. When we "Work Better" with our dealer partners, we're ultimately working to help provide their end costumers with a positive purchasing experience. We assist our dealers in informational and sales settings and we provide a number of tools and resources to improve their end customers' productivity, efficiency, and workflow.
"Working Better" with our dealers means working together. We maintain clear, open lines of communication to ensure dealers have easy access to everything they need to make their jobs as easy and informed as possible. As a company, we strive to provide up-to-date information on the latest Dehnco products and services for dealer education. Every Dehnco dealer has easy, unlimited access to a variety of technical and sales resources as well as industry insights and current trend reports. Some of the resources we provide include: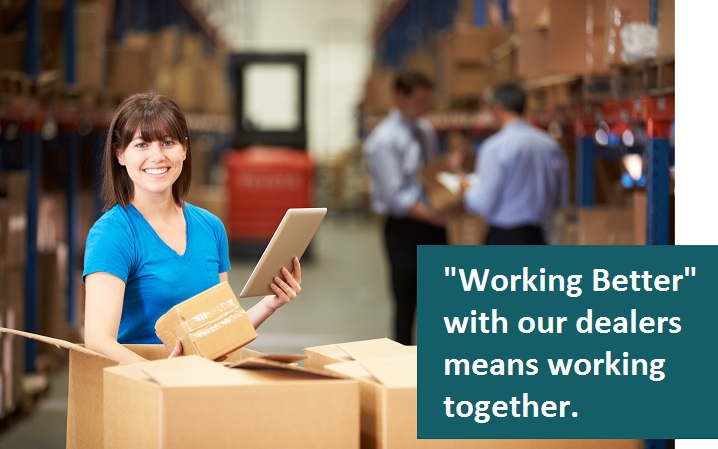 Assisting partners in identifying what "potential" opportunities really look like.

Detailed illustrations and photos of what opportunities and solutions look like. Sometimes it's the smallest tweaks or simplest adjustments that can make the biggest differences.

Detailed product descriptions and use-case

Access to current trends and issues along with common discussion points, adding value to discussions with end

Pre-engineered integration solutions with various technology, automation, and equipment
In addition to the online resources we provide, our team of application engineers is readily available to answer, assist, consult, and collaborate with our partners. We empower our dealers to identify opportunities and work together to provide solutions that integrate equipment, supplies, automation, and technology, and we strongly encourage them to think toward holistic, cost efficient, solutions for their end customers.
Of course, effective communication goes both ways; we also learn a lot from our dealers. Because of their proximity to the actual user, dealers provide a unique perspective, critical to ensuring a positive experience. We are constantly working with dealers to analyze marketplace trends so that we can better meet their needs, and ultimately, customer demands. The pack-and-ship and world moves quickly and we're constantly working with dealers to evolve our support, services, and product offerings.
From Dehnco to end customer, we want the shopping and delivery process to be as painless as possible. We want every interaction with Dehnco and our certified dealer partners to be a positive one. For more information on becoming a dealer or where to purchase Dehnco equipment, please visit our dealer information page.