At Dehnco, workers are at the center of everything we do. All of our workstation equipment is designed with our end users in mind; they're the ones who will be working with our products after all.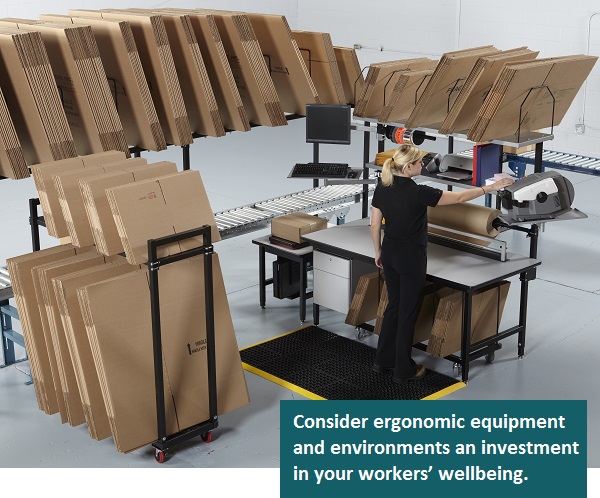 We want our users to be safe, comfortable, and productive at work, and in order to maintain ease of use we implement ergonomic design and engineering solutions to help workers do their best work. Ergonomic design takes the stress off certain motions and tasks; it makes jobs easier and more comfortable for the person doing the work. Warehouse, transportation, and materials handling employees have physically demanding jobs. Repetitive reaching, bending, lifting, gripping and straining can take a toll on the body, potentially leading to serious injury.
Warehouse personnel today work faster, longer, and manage more inventory than ever before, making worker safety and employee satisfaction top priorities for many businesses. With an eye toward ergonomics, we've been able to optimize for efficiency without cutting corners – and we've been seeing incredible results.
Consider ergonomic equipment and environments an investment in your workers' wellbeing. And over the years, we've found that when we're good to our clients, our employees, and our equipment users, they do better work.
Ergonomic workflow ensures comfort and safety, reduces the risk of injury, common errors and inefficiencies. All of our equipment is modular, adjustable, and easily customizable to promote comfort, efficiency, and safety across a variety of applications. Our workstations and storage solutions are designed to support correct posture, minimize excessive reaching and bending, reduce overall motion, and conserve energy.
Workers need support, and at Dehnco, we're committed to ensuring the work gets done safely and well.