Believe it or not, most clients are not calling us to ask directly about our cart offerings. And it's not because our carts aren't great, but rather that our customers typically don't think of them as an item worthy of investment or customization. Carts are usually an add on or an accessory to a larger order, or thought of as a fixed commodity. People primarily purchase carts based on price and preference; if it has wheels, shelves, and a handle, people tend to assume it can do the job well enough.
But, realistically, if you're using carts as a primary mode of inventory transportation, for receiving and picking, or for storage throughout your space, they should be given as much thought as any other piece of equipment.
While selecting a cart seems like a small, fairly inconsequential decision, think about all of the functions a cart serves. A cart is an extra set of hands, a mode of transportation, a pick cart, a movable storage unit, and inventory organizer. We ask a lot of these simple machines and depend on them for a variety of daily tasks. We count on them to run smoothly and efficiently, and we find ourselves in cumbersome and costly situations when things go awry.
When selecting a cart for your operation, functionality, ease of use, durability, and maintenance should all be considered. While choosing a cheaper cart option can seem like a small win, there are several hidden costs, both monetary and physical:
"Good enough" but not exactly what you need
Compromised and poorly functioning products take up valuable floor space and lowers capacity for throughput
Cost of repeatedly maintaining or replacing broken and damaged carts
Investment in additional accessories to supplement cart function
Unnecessary strain, steps, and fatigue for users
Our team of experts is ready to discuss your exact needs, goals, and challenges in order to identify and create your ideal vehicle for transportation in your distribution center. All of our product offerings are customizable to suit your exact needs. Need a cup holder? We can do that. Interested in a pouch to store your clipboard or tablet? Not a problem. All of our products are designed to fit the people who will be using them — to make their jobs easier, safer, and more efficient.
Our products are all made of the highest grade materials and come with a lifetime warranty. Our cart offerings provide strength and durability without sacrificing maneuverability or ease of use. We prefer steel to aluminum because while aluminum is lightweight, it is also expensive and breaks and bends more easily — a lose – lose, in our book. The casters and configurations on our steel carts give them an easy, stable ride suitable for even your smallest employee and are able to withstand the toughest of environments.
Other customizable options depend upon your needs and requirements. When designing a cart with our engineering team, you'll have the option of what size cart you'd like, how many shelves you need, and the height and depth of the shelves as well as the angle the shelves are set, among other modular design features. We know every business is different, and we're here to provide you with exactly what you need.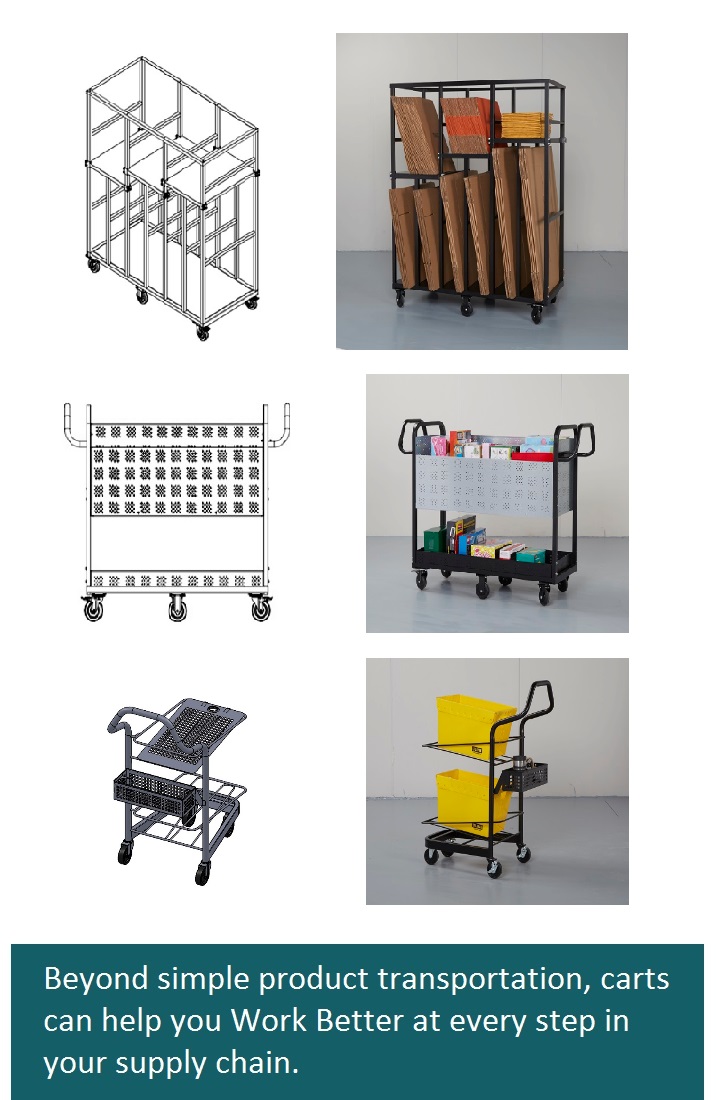 Warehouse employees today are working faster, longer, and at all hours of the day. Warehouse staff members work in shifts but the equipment never gets a break. While it might seem like a shortcut to save a few dollars here and there on less expensive equipment, investing in a quality cart will save time, money, and headache.