The reverse logistics process is an important part of every supply chain, though it often gets overlooked. It's helpful to think of reverse logistics as product lifecycle management. The phrase alone can mean a number of things, as it's a highly involved process in which items are returned to the seller or manufacturer for refund, repairs, recycling, or re-selling. Reverse logistics processes vary, and can range from basic customer returns to product recycling programs to managing surplus inventory.
Reverse logistics is nothing new, but is increasingly relevant and important in the "now" economy. The ecommerce boom, emphasis on green business practices, and overwhelming expansion of the marketplace have all encouraged businesses to examine their supply chain for hidden profits, hiccups, and inefficiencies.
Reverse logistics needs to be a core capability for any business looking to reduce costs, improve their customer experience, and create sustainable supply chain practices. A well-managed reverse logistics program plays an important role in brand image and customer loyalty and satisfaction—as customers are more likely to frequent and think favorably of stores with hassle-free returns or trade-in programs like Apple, Amazon, or H&M.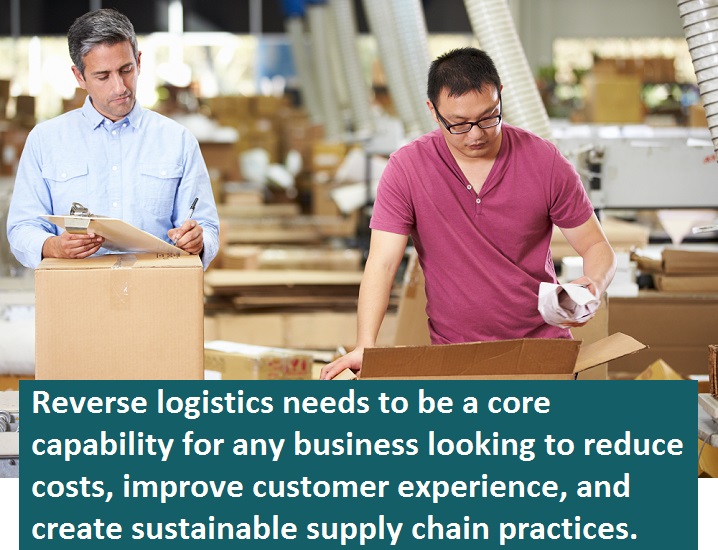 Customers today are pickier and have higher expectations; they expect value for their business and have more purchasing options and decisions than ever before. Higher return rates are commonplace for online purchases, a direct result of being unable to see, feel, and experience an item before purchasing. Shoppers return hundreds of billions of dollars in merchandise annually, and it's estimated that online retailers see 3 to 4 times more returns than brick-and-mortar shops. For businesses, returns pose significant operational and customer service challenges if not managed properly—prompting an "arms race" to see who can provide the most convenient and cost effective returns program.
But what do companies do with all of our returned items? When an incorrect, damaged, or exchanged item returns to the original warehouse or distribution center, it re-enters the supply chain. The goal of an effective, sustainable reverse logistics process is to eliminate waste while maximizing profit. Returned assets have value as re-sellable, re-manufacturable or recyclable items; to reduce them to waste and send them to landfill is both fiscally and environmentally irresponsible.
In order to effectively minimize waste, it's important to have a plan in place. When items arrive back at your warehouse, you need to be prepared. Designate a workstation in your distribution center for incoming returns, equipped with the proper scanning, processing, and packing and shipping materials if necessary. Keep product moving to avoid jams and storage issues. Establish a clear, open line of communication between departments—reverse logistics often involves input and action from finance, customer service, repairs, as well as sales teams. Collect data on where, when, and why errors in your supply chain occur with the goal of continuous improvement.
Reverse logistics is just as important as the forward supply chain; it can no longer be an afterthought. Today, a robust reverse logistics program is an essential, invaluable, and even profitable, business asset. At Dehnco, we understand the work required behind the scenes to achieve optimal workflow and are here to help you every step of the way. For more information on reverse logistics consultation, visit our WISE page.