Shoppers today are looking for convenience. Convenience means something slightly different for every customer, but on the whole it means people are looking for new ways to receive their purchases quickly, cost-effectively, and safely. The omnichannel retail ecosystem gives consumers more ways to shop than ever before. And it's presented businesses with the challenge of how to optimize and meaningfully integrate both their brick-and-mortar and online presence to drive sales.
One shopping method that's been rapidly rising in popularity is the "Click and Collect" or "Buy Online Pick Up In Store" (BOPIS) method. A 2019 ICSC survey indicates that over 50 percent of adults use click-and-collect, with 61% saying they use BOPIS services "frequently." And these numbers aren't totally surprising. Shoppers are increasingly opting for the convenience of shopping on their desktop or mobile device and picking up their purchase in a physical storefront—saving on shipping costs and delivery time. And if your business isn't using a BOPIS strategy yet, now is a great time to get up to speed because this trend is only gaining traction.
A BOPIS shopping strategy is a great, cost-effective way for retailers to meaningfully connect their online and brick-and-mortar stores while driving sales and providing a useful service to their customers. BOPIS services capitalize on the instant gratification online shoppers have come to expect; many retailers even provide same-day pick-up within hours. Buyers like BOPIS programs because they save time, hassle, and money. So, what's in it for your business?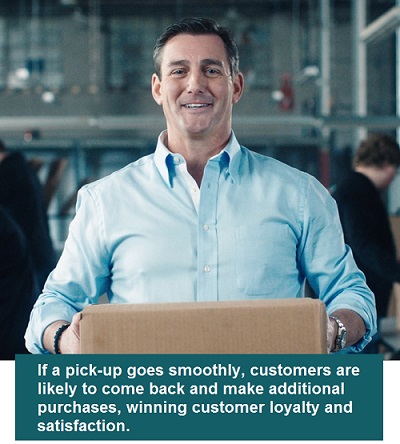 BOPIS programs have several benefits for both businesses and shoppers alike. A business strategy that drives people in-store is always a good one. Multiple surveys and research studies suggest that as many as 75% of shoppers will make an additional, unplanned purchase once they're at the store. BOPIS programs also incentivize "one stop" shopping trips, especially during holidays and busy buying times—why drive to multiple stores when you can cross off the majority of your list in one place?
In addition to driving revenue, BOPIS programs provide an excellent opportunity for relationship building. Once customers are in your store, this is the time to wow them. BOPIS bonuses that on-the-go shoppers love include curb-side pickup, dedicated BOPIS personnel, and self-serve storage lockers. If a pick-up goes smoothly, customers are likely to come back and make additional purchases, winning customer loyalty and satisfaction.
Consider BOPIS a win-win, the best of online and in-person shopping. When customers pick up items in-store, your business can save valuable time, resources, and money that would be spent on last-mile shipping and logistics costs.
Are you interested in implementing a BOPIS strategy or looking to improve your current situation? At Dehnco, we have the equipment and the expertise to help you ensure that product moves safely, quickly, and easily through your space. We custom-manufacture equipment to fit the job, space, and budget, and we'll work with you one-on-one to determine exactly what you need. We look forward to working with you and hearing more about your project.