COVID-19 has fundamentally changed the way the world shops. With billions of people staying home, retailers have been uniquely challenged to find ways to serve customers and fulfill orders without risking public safety.
Early in March, when non-essential businesses were ordered to close and shelter-in-place policies were enacted across the US, people turned to online retailers as a way to safely and conveniently shop. And—as we're sure you remember the great toilet paper and hand sanitizer shortage—it caused a major disruption to the global supply chain. Items that were always readily available were back-ordered, out-of-stock, and seemingly impossible to find almost overnight.
Thankfully, things have begun to even out over the last few months, but the pandemic is still testing retailers and encouraging businesses of all types to rethink their fulfillment strategies.
We don't know what the physical retail landscape will look like in the coming months, but we do know that e-commerce and omnichannel fulfillment strategies will play an even bigger role than they did pre-pandemic. At Dehnco, we're committed to finding flexible, forward-thinking solutions that will help our clients position themselves for success and longevity no matter the circumstance.
As we continue to learn and grow through this together, we're committed to finding solutions for our clients to boost their productivity while also protecting their workforce. We recommend the following tips and strategies to stay ahead of the curve and maximize your e-commerce fulfillment capabilities.
Invest in Omnichannel & Digital-First Strategies
In the first six months of 2020, consumers had spent $347.26 billion online with U.S. retailers, up 30% from the same period in 2019. This represents a major shift in consumer behavior and puts unprecedented demand on businesses to deliver.
Over the last few months, we've been able to assist businesses of all kinds as they were forced to re-think their business models—many deciding to invest in ship-from-store, BOPIS, and e-commerce solutions.
When businesses bring their supply chain in conversation with their customers, we find they're more quickly able to meet the market's ever-changing demands. Omnichannel solutions and systems will allow you to reach more customers, more quickly, and at lesser cost.
Prioritize Your Inventory
The pandemic has not only changed how customers shop but has also influenced their purchasing decisions. Shoppers today are buying less and focusing on the essentials—looking to shop in bulk and are willing to pay more for quality. Customers are more aware of product availability than ever before and shoppers appreciate real-time data on inventory.
If businesses can identify key, essential items and prioritize their supply chain to ensure their availability and accessibility, they'll be able to cut costs, satisfy customers, and deliver critical services.
Build Flexibility Into Your Business
COVID-19 has been a sink-or-swim situation for many businesses. We've been inspired by the entrepreneurial spirit we've seen and amazed at how quickly many were able to find creative, innovative solutions to keep their businesses on track.
If the pandemic has taught us one thing, it's to be ready for anything. Flexibility and adaptability have been critical over the last few months—underscoring our commitment to providing modular equipment solutions that grow and adapt alongside our clients' needs.
Moving forward, successful businesses will be the ones who embrace change rather than fight it.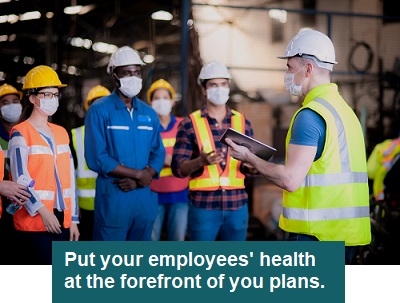 Protect Your Employees
At the end of the day, the main priority in the pandemic is preserving public health and safety. As you think about your re-opening and order fulfillment strategies, put your employees' health at the forefront of your plans.
Your people are your most important link in your supply chain, and we owe it to all frontline and essential workers to keep them safe. To help protect your employees, we offer a variety of barrier systems, sanitation stations, and temperature testing modules to help slow the spread of COVID-19.