What do middle school art teachers, seamstresses, banner makers, packing specialists, and car manufacturers all have in common?
At surface level, their jobs couldn't be more different from one another. One works in a classroom of 25 children, another in a 500,000 square foot warehouse. One spends the day sketching and sewing tailor-made garments, another producing thousands of cars.
But the one thing each of these professionals has in common is the need for efficient material handling and storage solutions — particularly when it comes storing, moving, and cutting large rolls of materials.
How and where to efficiently store rolls of material poses an organizational and physical challenge. It may seem like a small, insignificant detail, but when you're dealing with a 200lb roll of material and limited space to unwind it, things can get tricky pretty quickly. But whether you're working with rolls of fabric, bubble wrap, fiberglass, vinyl or butcher paper — we have a solution for you.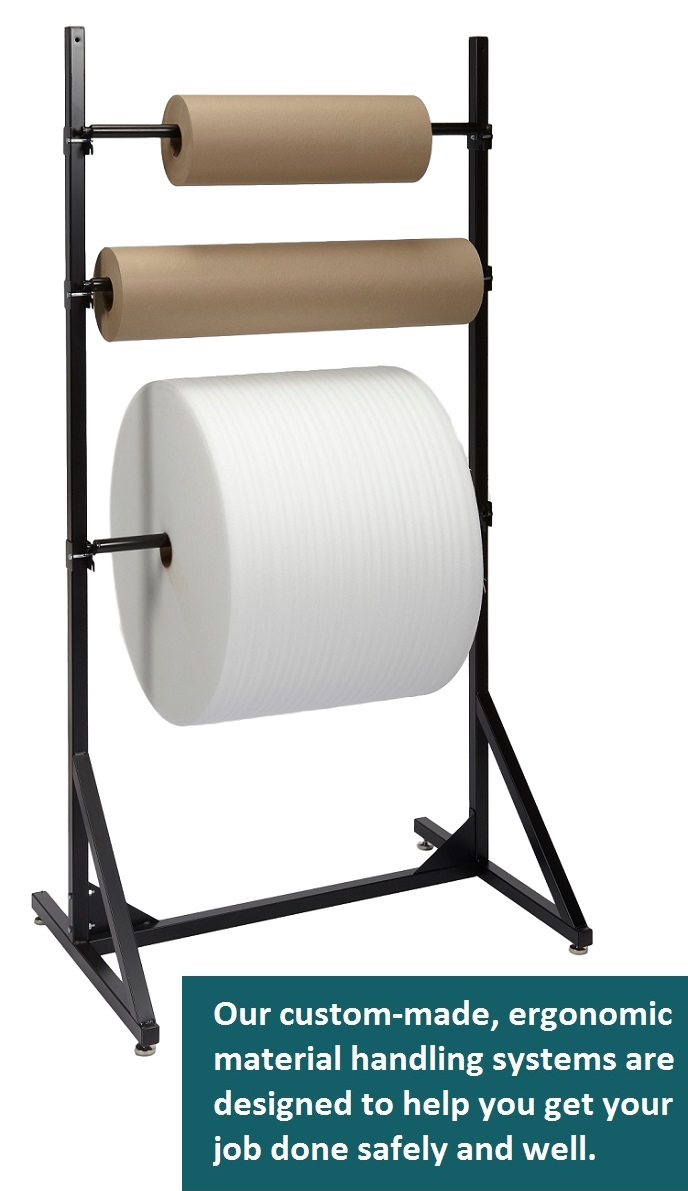 Our line of roll stands aids in the storage, organization, and preservation of materials. Roll stands keep material off your workstation and off the floor, opening up valuable floor and work space while keeping your roll of materials clean. Dehnco provides a variety of customizable stand options to suit your exact needs. Our roll stands and dispensers are built from tubular steel, provide support for up to 300 pounds, are easy to load, and can be customized in the following ways:
Stands can be free standing or wall mounted
Ability to adjust your stand and leading edge to the ideal height to prevent unnecessary strain
Options for vertical or horizontal roll storage
Weighted tension to prevent unwinding and ensure an easy grab every time
Multiple roll bars to maximize floor space
Wheel casters for easy transportation
Our line of compatible cutting systems can easily convert your roll of materials into sheets and useful sizes. Our cutters are efficient, easy to use, and come in a variety of customizable styles and functions.
Adjustable tension control for a clean, precise cut every time
Weighted separators to hold the leading edge, making cuts and tears quick and easy
Cutters for your exact needs, including compression cutters, pneumatic cutters, rotary shears, and score cutters
Manual and automated cutting technologies
Wheel casters to provide easy portability
Our custom-made, ergonomic material handling systems are designed to help you get your job done safely and well. We understand the importance of efficiency in your operation, and because no two jobs, workstations, or businesses are exactly alike, we'll work with you to determine the ideal set-up and equipment for your space. Give us a call to request a free quote.