At Dehnco, we have over 40 years of experience providing custom manufactured solutions and OEM (Original Equipment Manufacturer) services to meet our clients' specific needs. While many of our customers face similar challenges — pertaining to their shared interest in optimizing their operations in a quick, cost-efficient manner — no two businesses are exactly alike. Whether you're having difficulty keeping up with demand, require quicker turnaround or better lead times, our OEM team is ready to help.
We understand that selecting a manufacturing partner is an investment in your time, trust, and resources. At Dehnco, we have the design, engineering, manufacturing, and fulfillment expertise to meet your needs in a timely and cost-effective manner. We serve as a partner — working closely with your engineers and your existing designs to supply the parts, support structures, mounting solutions, and any other products you may need.
Our design and engineering teams are in-house and on-call to handle quotes and custom requests. We can turn around fast improvements to existing plans or create original designs and custom modifications that are built to spec with an eye on ergonomics and functionality. Our decades of OEM experience encompass a variety of projects that include but are not limited to: IT solutions, custom dollies and carts, support structures for put-to-light put/pick walls, shelving and storage units, and automation and machine support structures. No matter the project, we'll work with you, hands-on, to determine exactly what you need and deliver a final product that meets your exact requirements.
To facilitate custom, quick, cost-effective, and high-quality production we have invested in state-of-the-art manufacturing capabilities. Our manufacturing facility is constantly being updated in order to stay competitive and deliver the best product possible. Our plant is equipped with the latest laser cutters, turret presses, robotic welding technologies, and powder coating systems to deliver precise, top-of-the-line products cost effectively and quickly. In addition to our manufacturing site, we have a dedicated facility for assembly, product testing, inventory storage, and distribution. When you're ready for your equipment, we can ship it knocked down or deliver it fully assembled. We pride ourselves on providing white glove service in an industrial sector.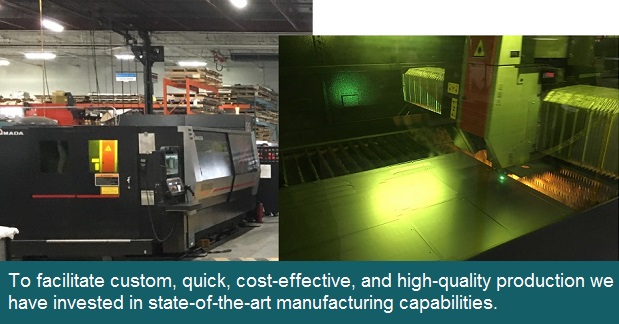 The success of our OEM business is a result of our years of engineering and manufacturing expertise as well as our willingness to treat our clients like a partner. We have a dedicated OEM team that works to ensure quality, attention to detail, and efficiency; when you call, we're prepared to give your project the full attention it deserves. And as your business needs evolve over time, we'll be right there to help you. Technological advancements and consumer needs can change quickly, and we're here to help you adapt to meet your customers' needs. We aim to be a trusted OEM partner — providing you with long-lasting, quality equipment that help you work better, no matter how your operation evolves.