We've seen how versatile the physical retail space can be in the wake of the COVID-19 pandemic. With government restrictions, shelter-in-place orders, and in-store sales declining, businesses have been forced to re-think the role and value of their physical assets.
Over the last few months, we've seen a major shift from traditional retail models toward omnichannel solutions. Many legacy, big-box, and mid-market retailers have been able to stay competitive by implementing ship-from-store and curbside pick-up programs, leveraging their storefront locations as safe and efficient order fulfillment centers.
By making stores the center of the distribution and order fulfillment network, businesses are finding that they can reach more people, more quickly, and expand their offerings beyond traditional retail modes. Recent data pulled from Adobe Analytics found that buy online, pickup in-store orders surged 208% in April compared to last year—signaling an enormous opportunity for businesses not yet on board.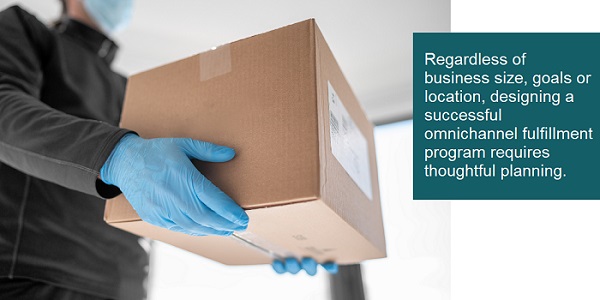 In a way, COVID-19 has simply accelerated the timeline for flexible fulfillment programs. Curb-side pickup, carry-out, and ship-from-store strategies aren't new by any means, but they're becoming more and more essential.
The new normal for retail is evolving week-by-week and city-by-city and there's no one-size-fits-all solution. Regardless of business size, goals or location, designing a successful omnichannel fulfillment program requires thoughtful planning. Whether you're looking to improve your current in-store setup or you're looking to start offering curbside services, our team of consultants can help identify opportunities for better space utilization, inventory organization, and picking, packing, and staging efficiencies. Ultimately, we'll help you improve employee efficiency and help reduce the time it takes to process and prepare orders for pick-up or delivery.
Based on our experience and our observations, a successful, flexible fulfillment center requires:
Designated, convenient spaces for curbside pick-up
Inventory visibility across multiple shopping channels
Coordinated picking, packing, and customer service teams
Logistical training
Space-efficient storage and handling systems
Clear lines of communication between buyer and business
Pre-pandemic, an omichannel program was just an added business asset. Now, retailers are finding creative fulfillment solutions to be a key differentiator among competition as purchasing patterns show a preference for online and contact-free shopping options. And experts predict that these preferences likely aren't going away once there's a vaccine on the market. In May, Numerator reported that two-thirds of consumers indicated they'll continue click-and-collect shopping in a post-COVID world.
And in the end, we're finding that both businesses and customers value flexible fulfillment options for the same reasons: the convenience, the low-cost, and the speed. Shoppers today are looking for ways to simplify, and when businesses are willing to shorten that last mile to meet them in the middle, it can make all the difference.