Typical Applications
Dehnco Workbench Parts provide for storage, dispensing and cutting of roll material.
These above Workbench Parts can be mounted to the uprights in any Order. They slide on the uprights for ergonomic positioning.
Dehnco Workbench Parts can be used to upgrade existing tables and benches.
Workbench Parts allow the workstation to be designed specifically to meet the exact needs of the task being preformed.
A wide selection of other modular parts is available to make a workbench more efficient and productive.
General Specifications
All Workbench Parts are constructed for the strenth and safety.
Dehnco Workbench Parts provide storage for various types of roll material.
Dehnco Workbench Parts allow workstations to be quickly upgraded.
Above and below Parts can be added or deleted as required.
Workbench Parts are adjustable to accommodate the worker.
All sheet metal Parts are 14-16 gauge steel
Various Table Tops Available

Laminated, vinyl edged
ESD
Laminated, self edged
Shop top
Butcher block
Metal
Roller bearing
---
Key Benefits









---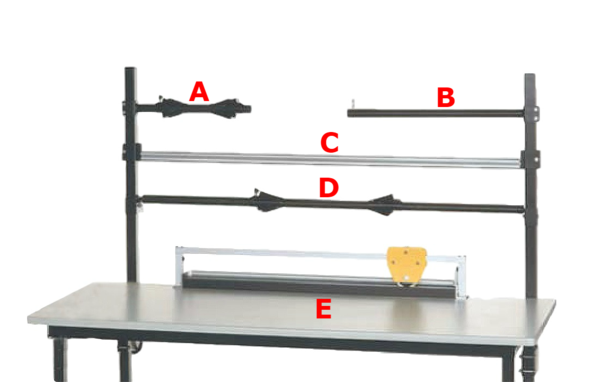 D-9070 CANTILEVER STORAGE ARM-24" B/F PIN
D-9087 LABEL / RIBBON BAR 26"L, 1-1/4" DIAM
D-9037 TOTE BIN RAIL
D-9030 ROLL BAR KIT
RC-3044 CUTTER BAR AND KNIFE ASSEMBLY-44"