Typical Applications
Worktable Components allow the use of valuable space above the table top for storage of essential materials and supplies. This space is directly in front of the worker so material is accessible with little movement.
Many of the above Worktable Components are mounted to the uprights in any order and they slide on the uprights for the most ergonomic positioning.
Dehnco Worktable Components can be used to upgrade existing tables and benches.
Worktable Components allow the workstation to be designed specifically to meet exact needs of the task being preformed. A wide selection of modular parts is available to attach to make workstations more efficient and productive.
General Specifications
All Worktable Components are constructed for the strenth and safety.
Dehnco Worktable Components allow workstations to be quickly upgraded.
Worktable Components are modular.
Above and below Worktable Components can be added or deleted as required.
Worktable Components are adjustable to accommodate the worker.
All sheet metal Parts are 14-16 gauge steel
Various Table Tops Available

Laminated, vinyl edged
ESD
Laminated, self edged
Shop top
Butcher block
Metal
Roller bearing
---
Key Benefits








---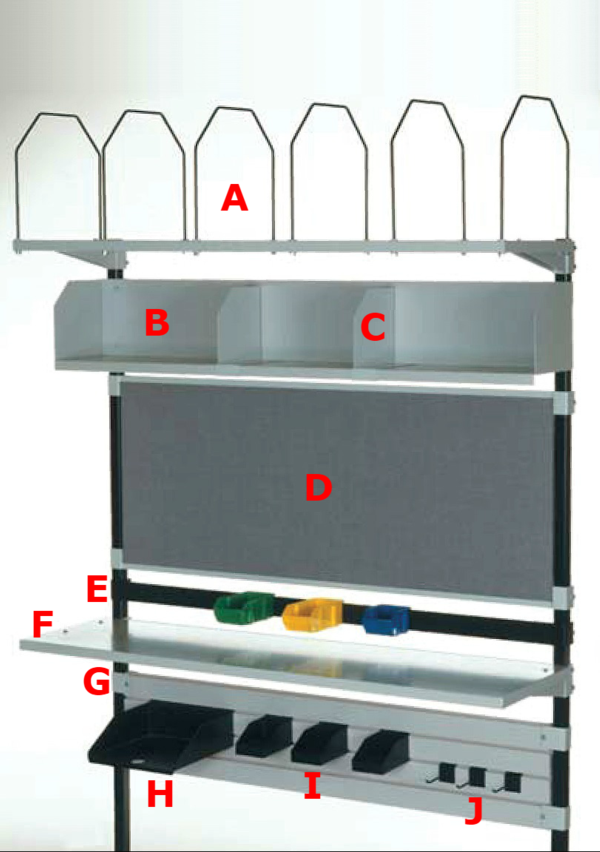 D-9031 CARTON RACK W/ 6 DIVIDERS, T-UPRIGHTS
D-9032 DOCUMENT SHELF 64 X 9 X 9-1/2"
D-9033 Divider DOCUMENT SHELF DIVIDER (EA.)
D-9093 TACKBOARD 24 X 60"
D-9037 TOTE BIN RAIL
D-9031-C FLAT SHELF, NO HOLES, 64 X 17"
D-9050 SLAT WALL PANEL
D-9053 SLAT WALL TREY, 12 X 12-1/2 X 4"
D-9052 SLAT WALL BIN 6 X 4 X 3"
D-9051 SLAT WALL HOOK